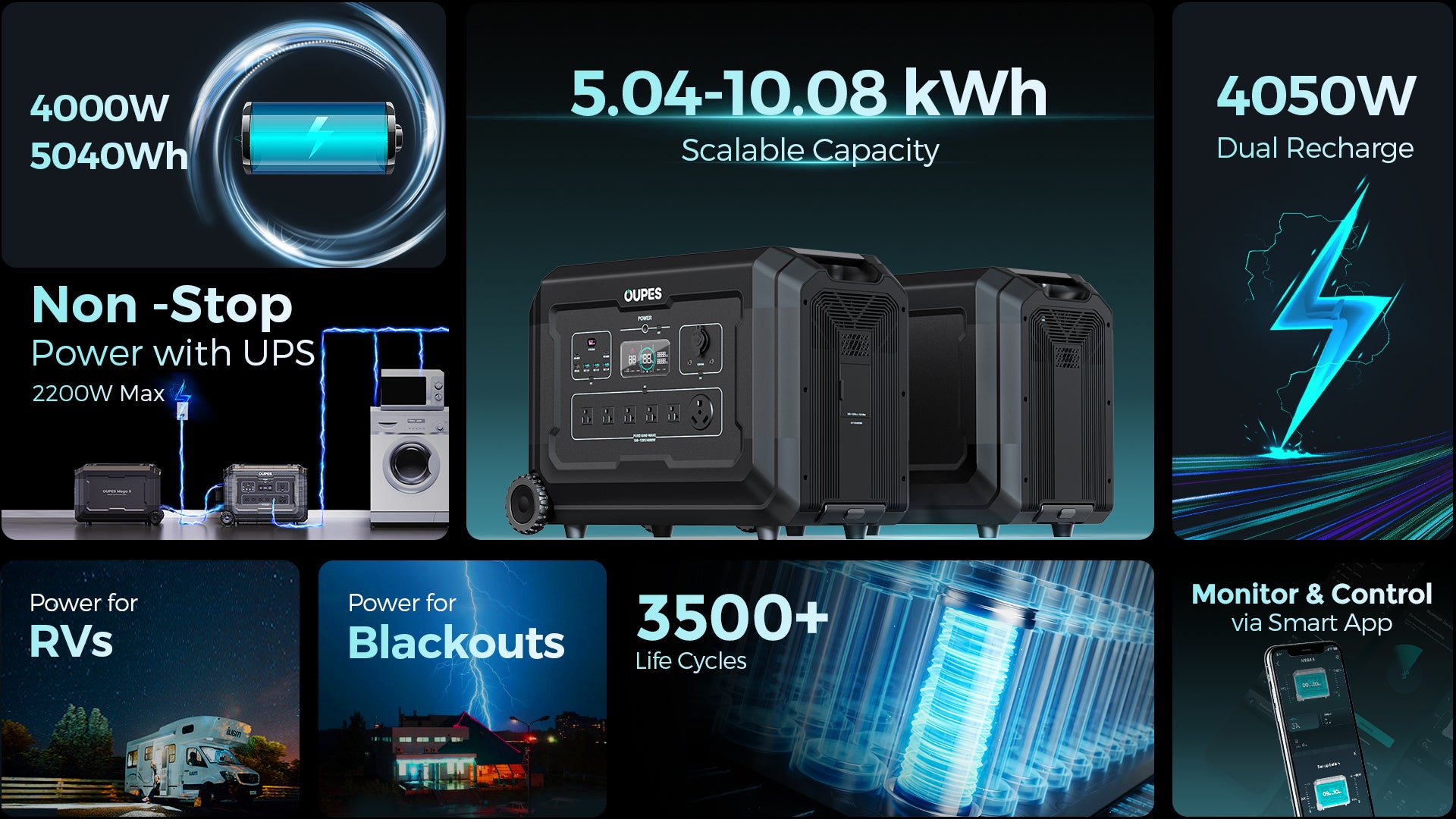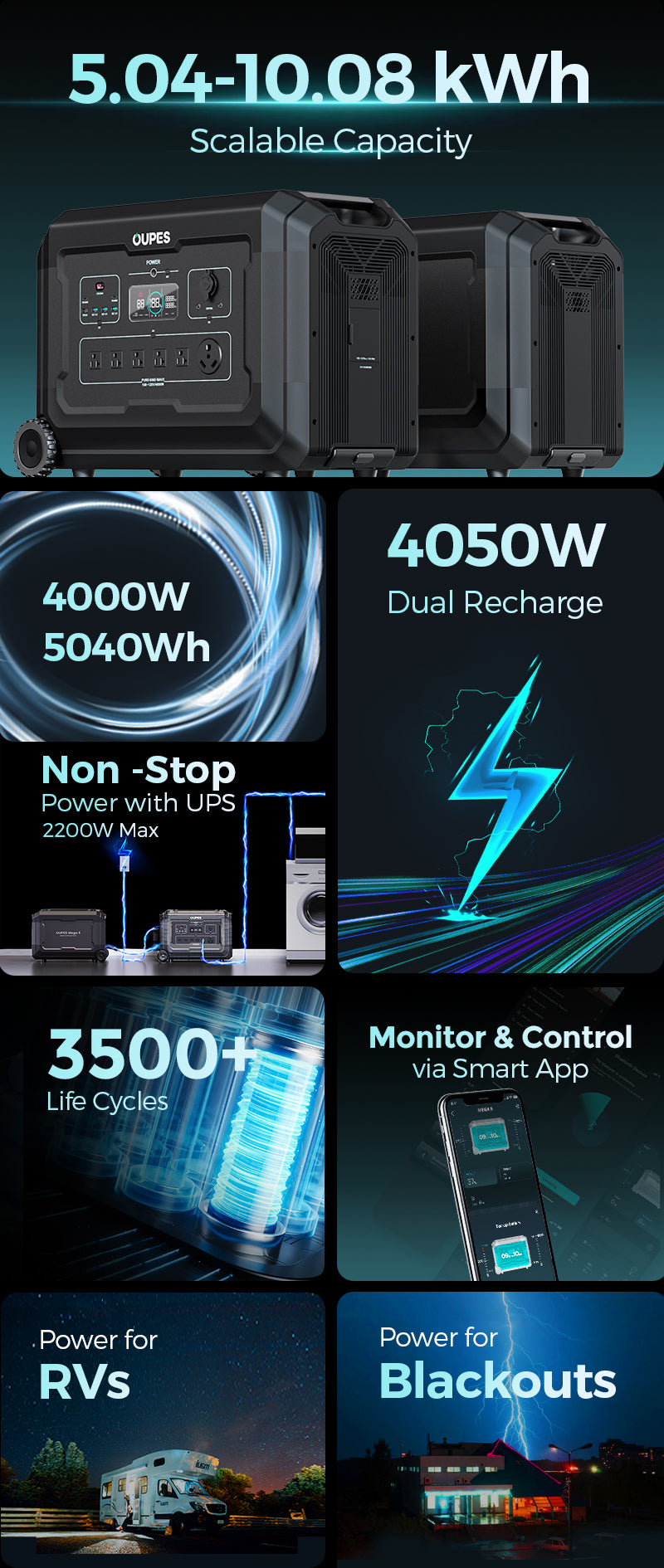 Expansion Battery
Double the Power Capacity
Mega 5 supports capacity expansion to 10.08kWh by connecting an expansion battery. With Mega5, you're covered for any situation from tailgate power to extreme blackouts that last for days.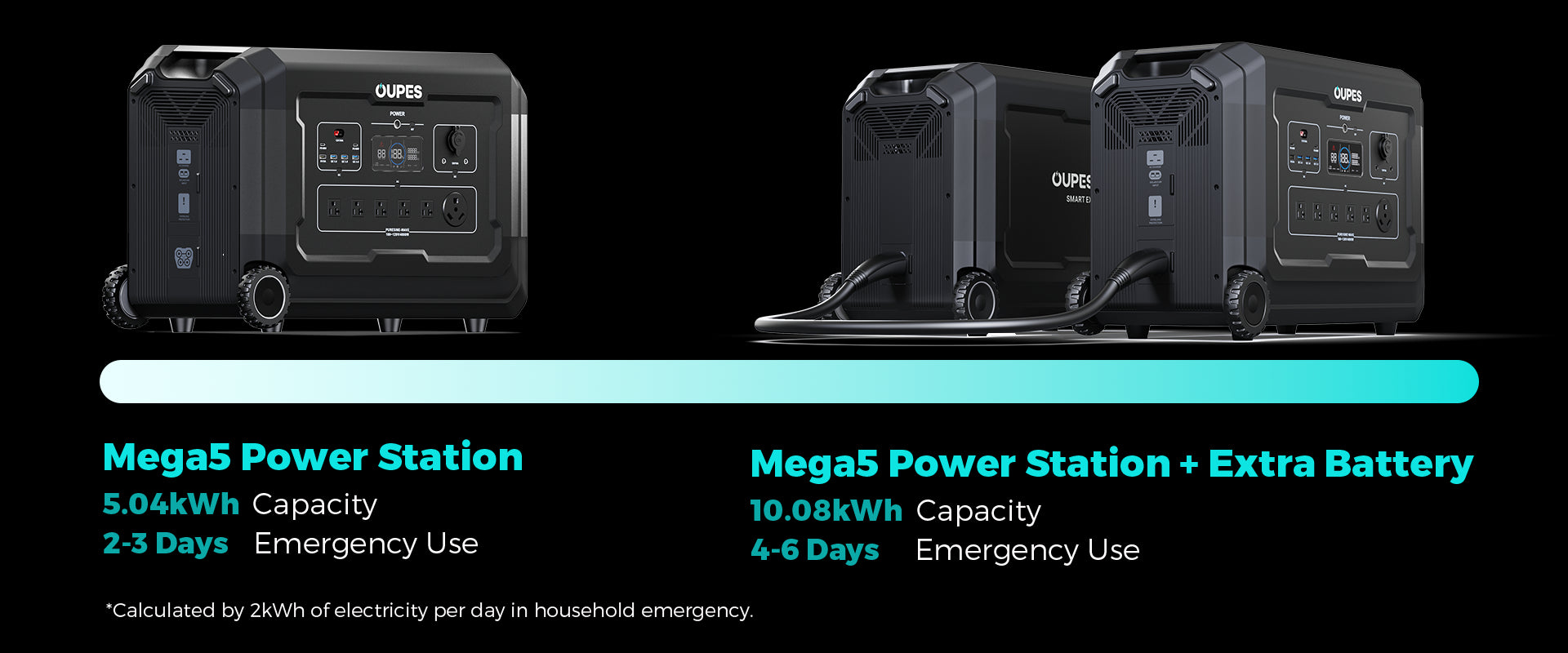 Run Your Home Appliances
With 4000W Ultra Power
Using the latest 4000W sine wave inverter developed by OUPES, the power station can support almost any appliance running at full power, from off-grid essentials like microwaves and refrigerators to professional tools like power drills and high-output lights.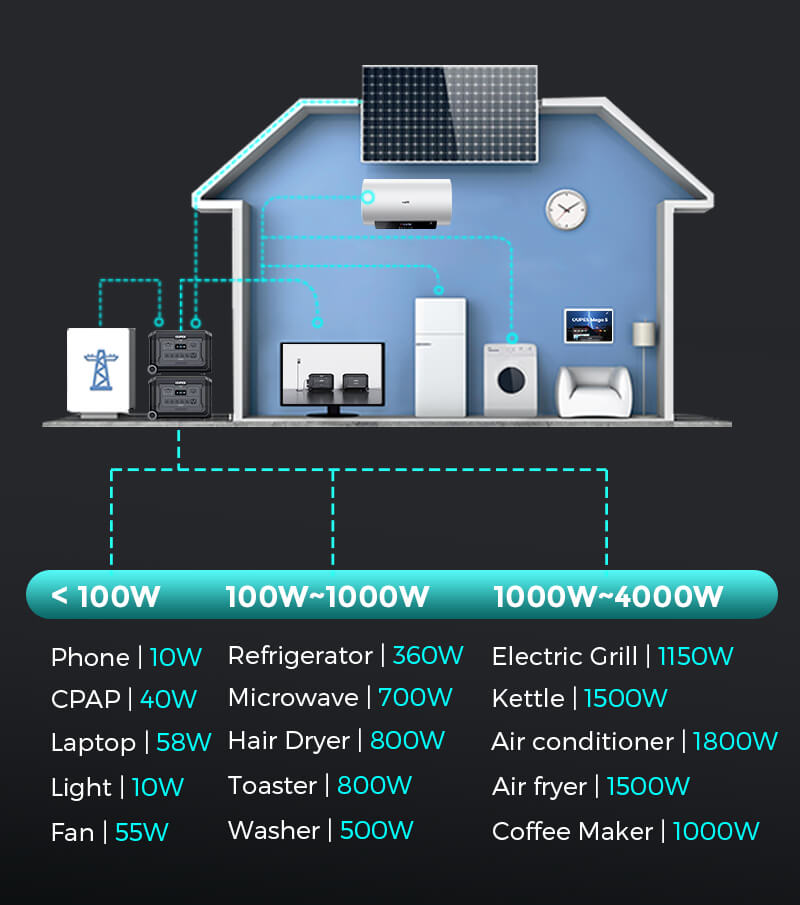 Plug and Play
Home Backup Power System
Up to 16 output ports for every need. Simply plug in what you want to charge and press the button, limitless power is available to you. The color LCD screen displays the status of the plant, including the fault code, power remaining, port status, etc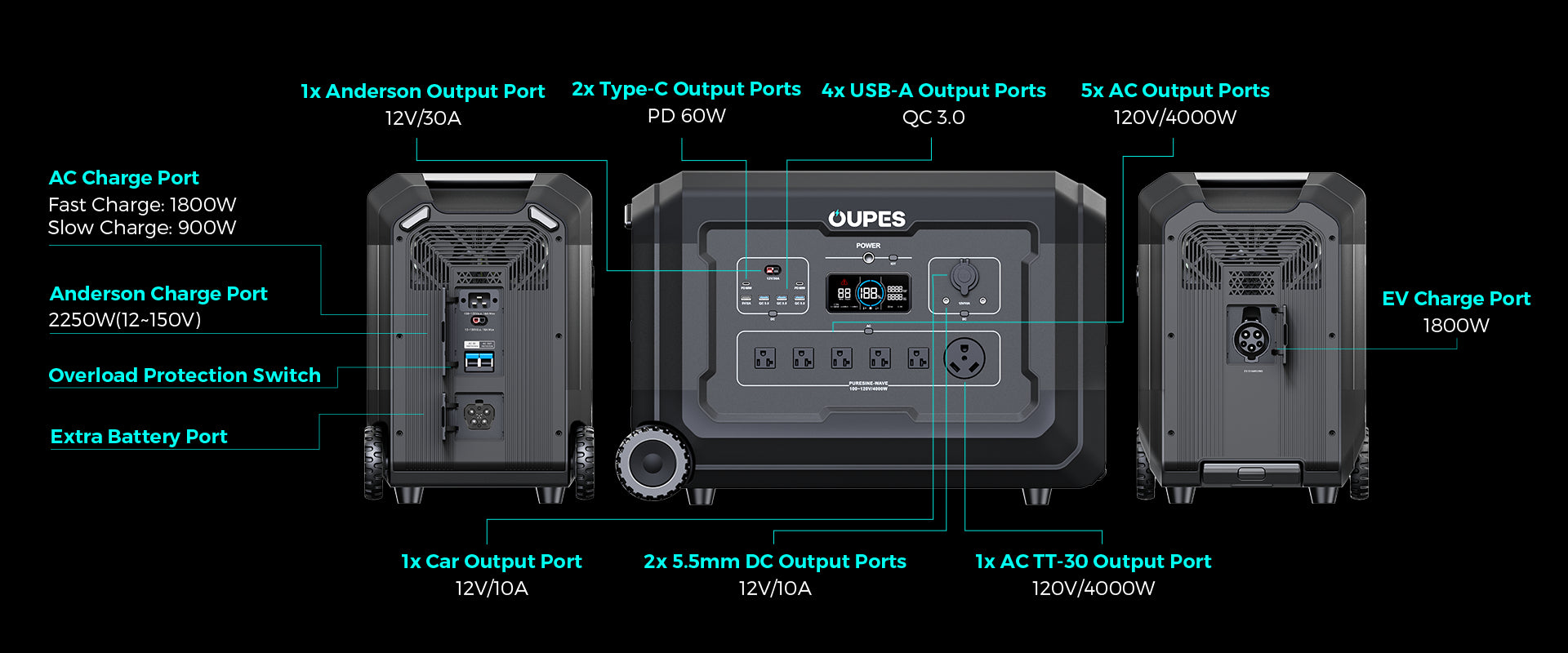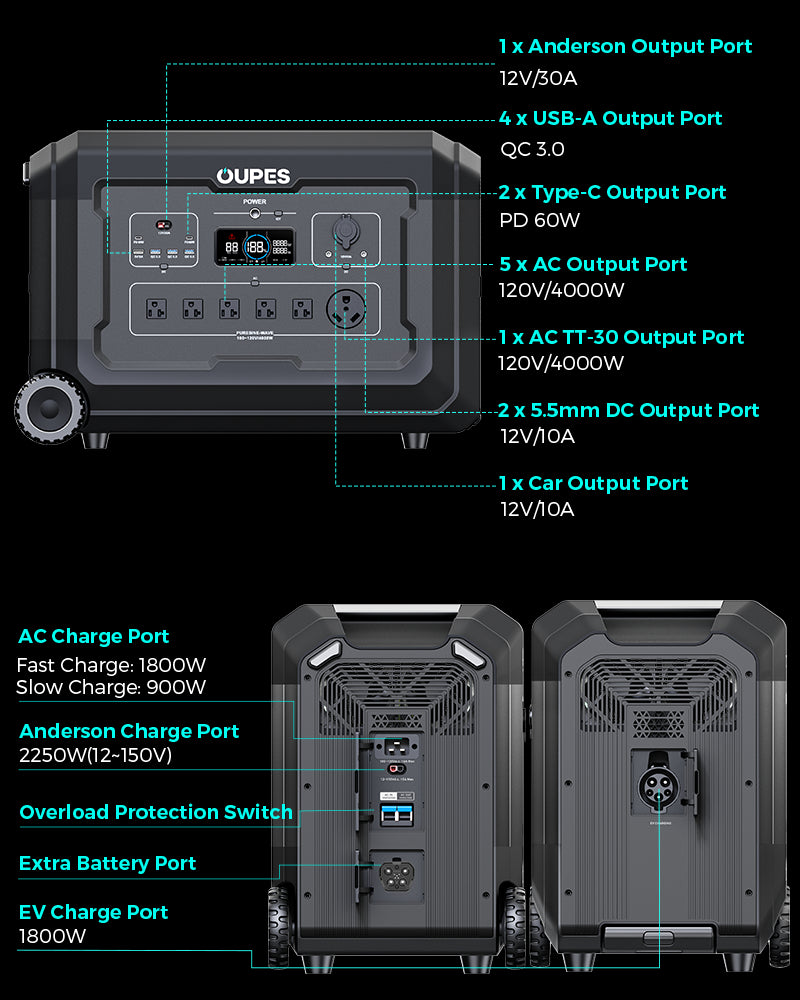 Lasts for 10 Years
Stable LiFePO4 Battery
Mega 5 uses EV-grade LiFePO4 battery, which can be used for 3500+ cycles at 80% depth of discharge. Combined with OUPES' advanced battery management system, the Mega 5 is incredibly safe and durable.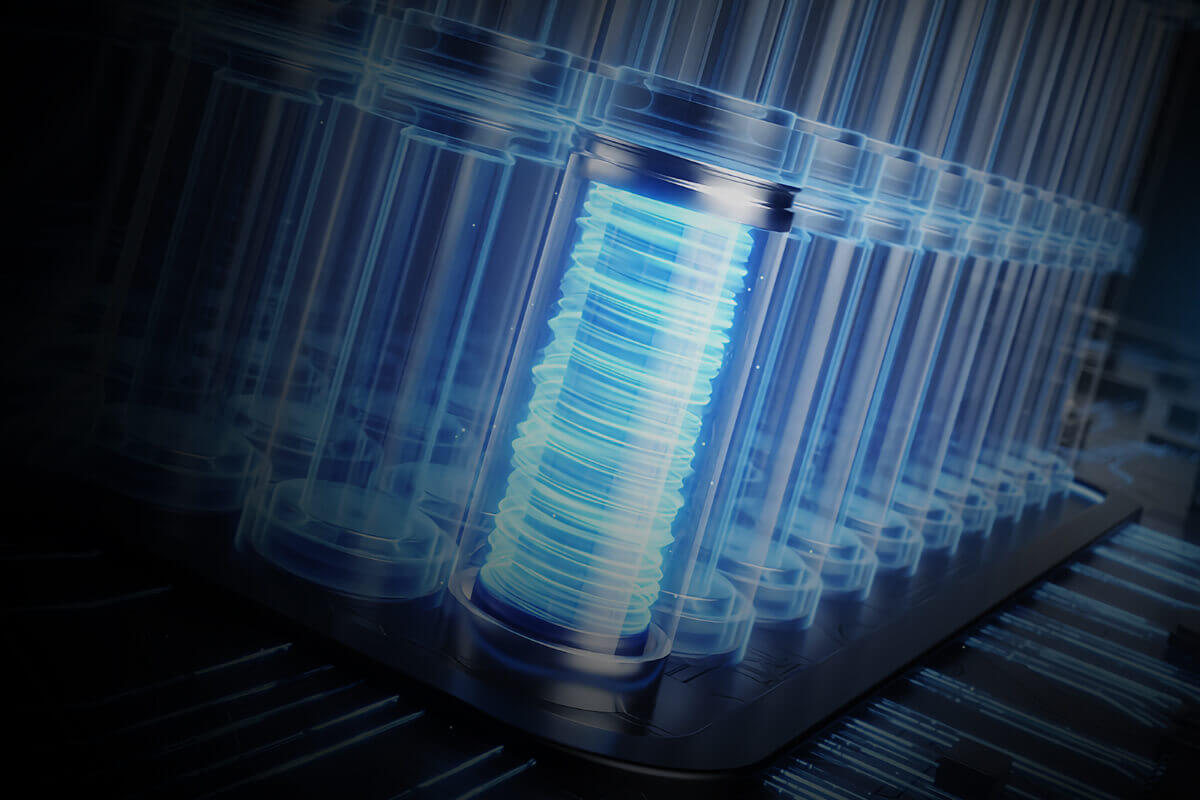 Dual Channel Charging
Multi-channel Charging Tech
Mega5 features the OUPES' latest Multi-charging Tech and it can deliver record-breaking speeds at 4050W. At the same time, It is also with equipped EV charging ports, so you can charge at thousands of EV stations around the US.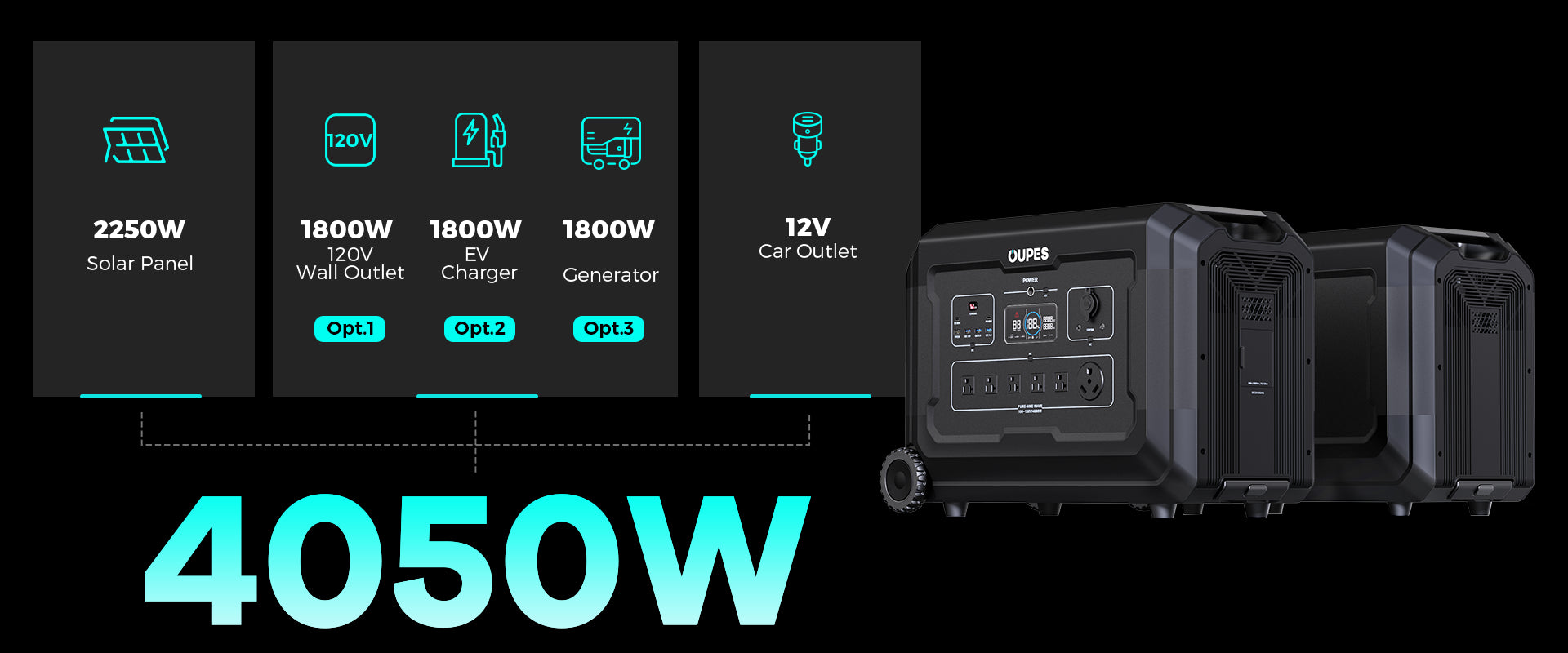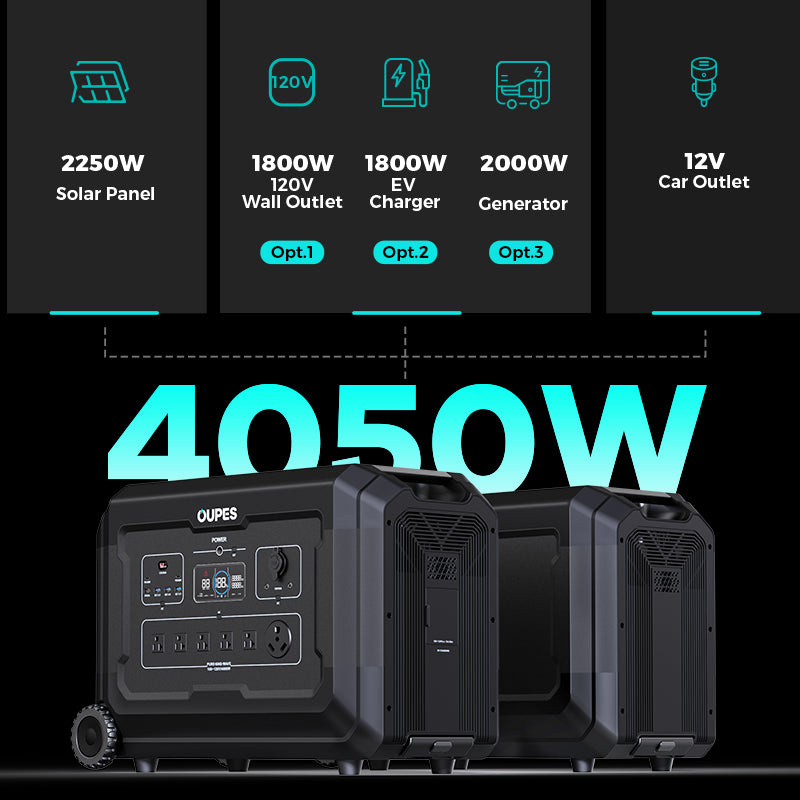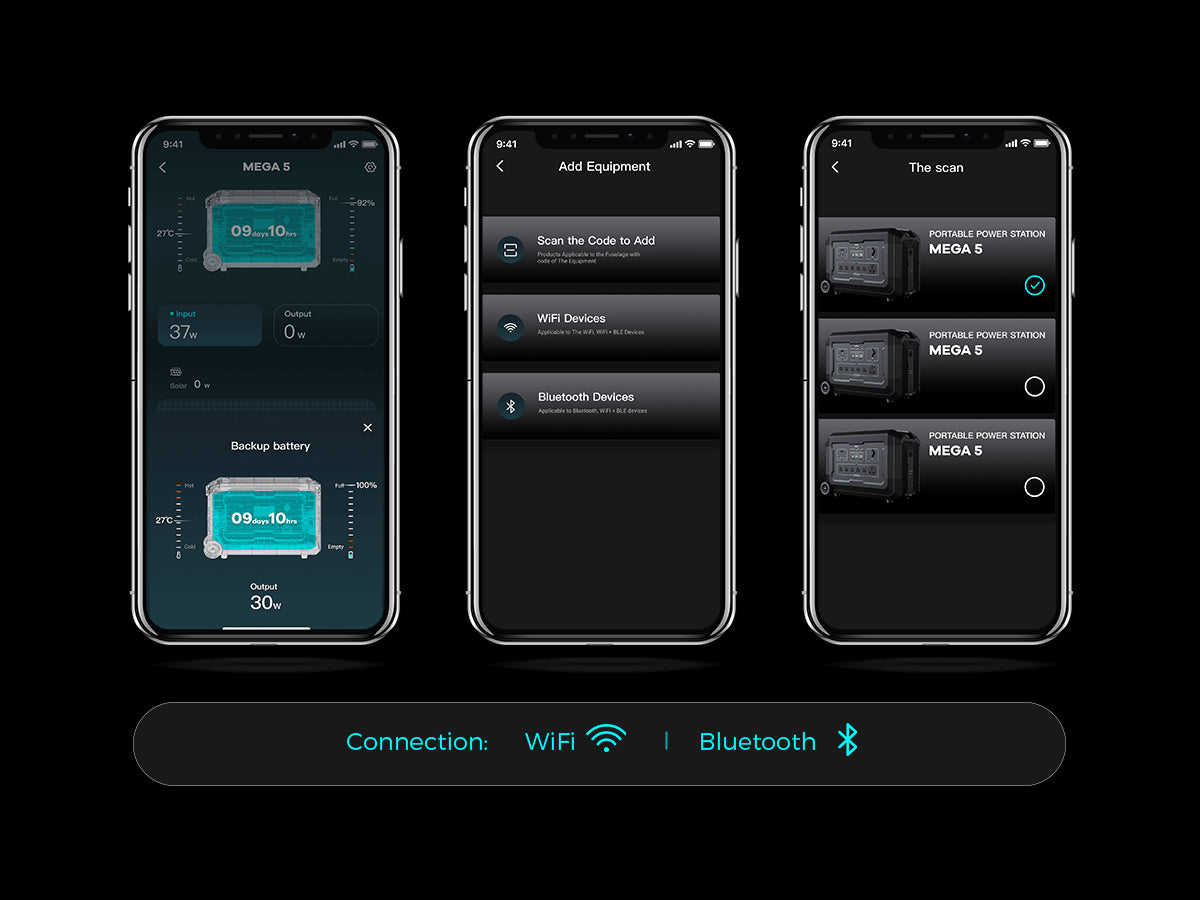 Monitor and Control
Power in Your Hands
No need to get up from your comfy sofa - you can operate Mega 5 from your mobile phone conveniently. On OUPES App, you can view and control your power station status, such as real-time input & output, port status, extended battery status, and more.
Fastest Charging Speed
Fully charge in 1.5 hours
Multi-channel charging tech provides more possibilities for further speeding up the charging speed. You can choose the charging methods you want according to your conditions. Even without multi-channel charge, you can still fully charge your Mega 5 in 3 hours.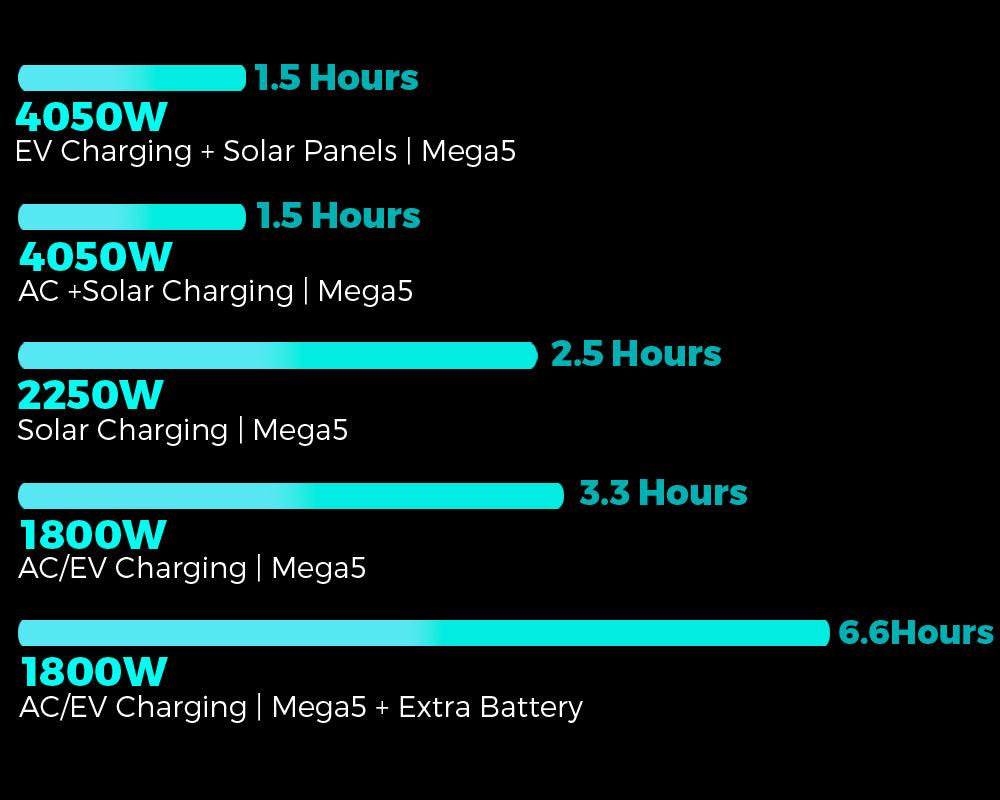 Embrace the Quiet
Immerse yourself in nature's calmness with our product's minimal noise output, allowing you to savor the serenity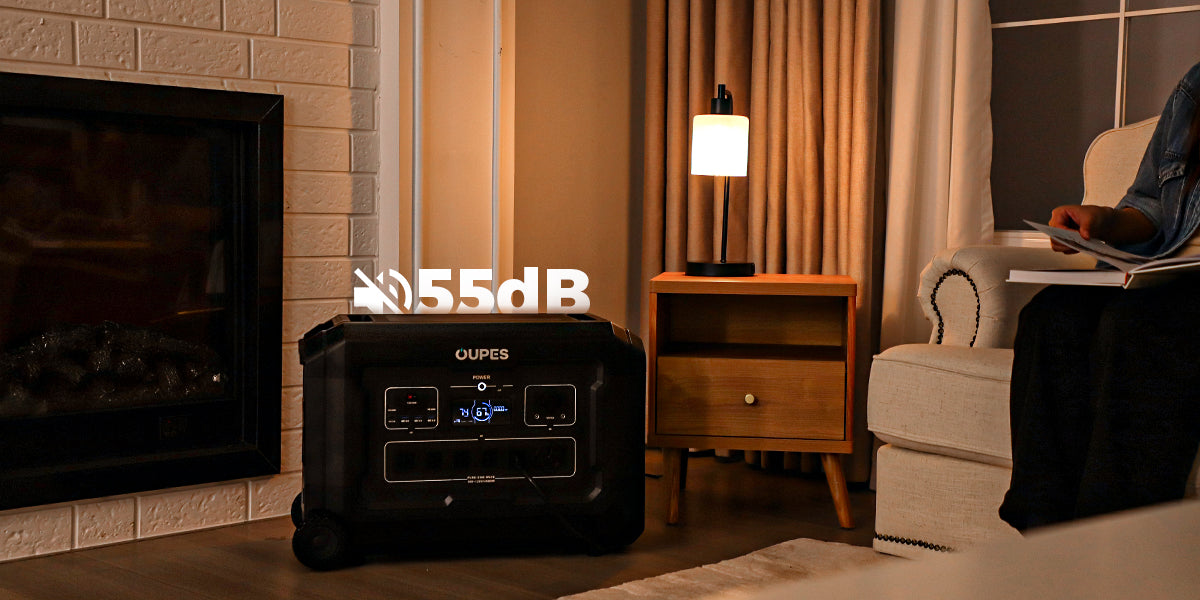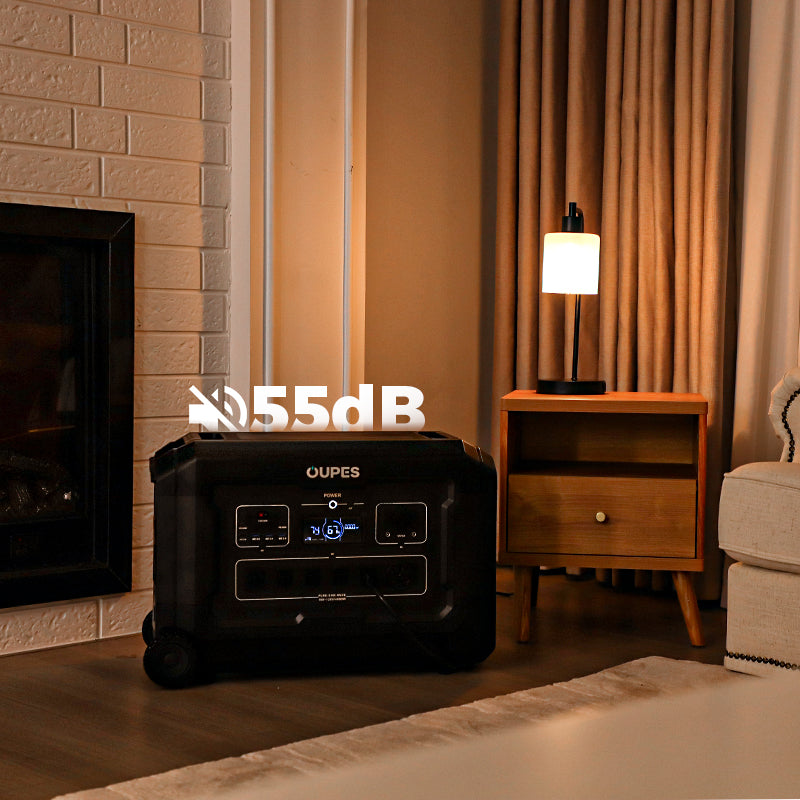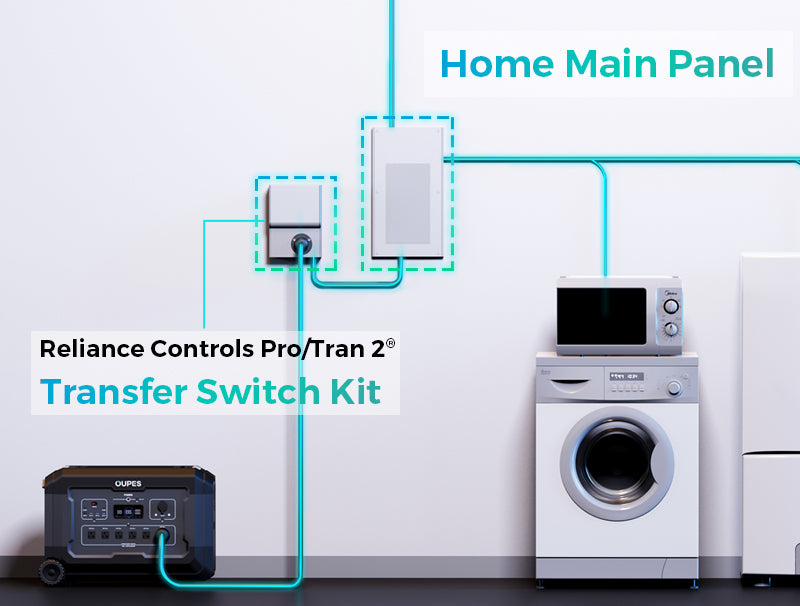 *Note1: Please purchase the transfer switch online, it hasn't launched on OUPES yet, let's expect them in the future!
*Note2: The Transfer Switch installation must be performed by a qualified electrician under the guidance of the installation and operating instructions in compliance with all applicable electrical codes. Only viable with indoor circuit breaker panels.For questions regarding installation or the Transfer Switch, contact Reliance Controls Customer Service Team Monday through Friday, 8am to 5pm CT at 1-800-634-6155.
*Note3: installation tutorial https://www.youtube.com/watch?v=tUllMu6tq7E
Alaska Prepper:"The Most Powerful Solar Generator I've Ever Used! – With A Massive 4000W Output Capacity!"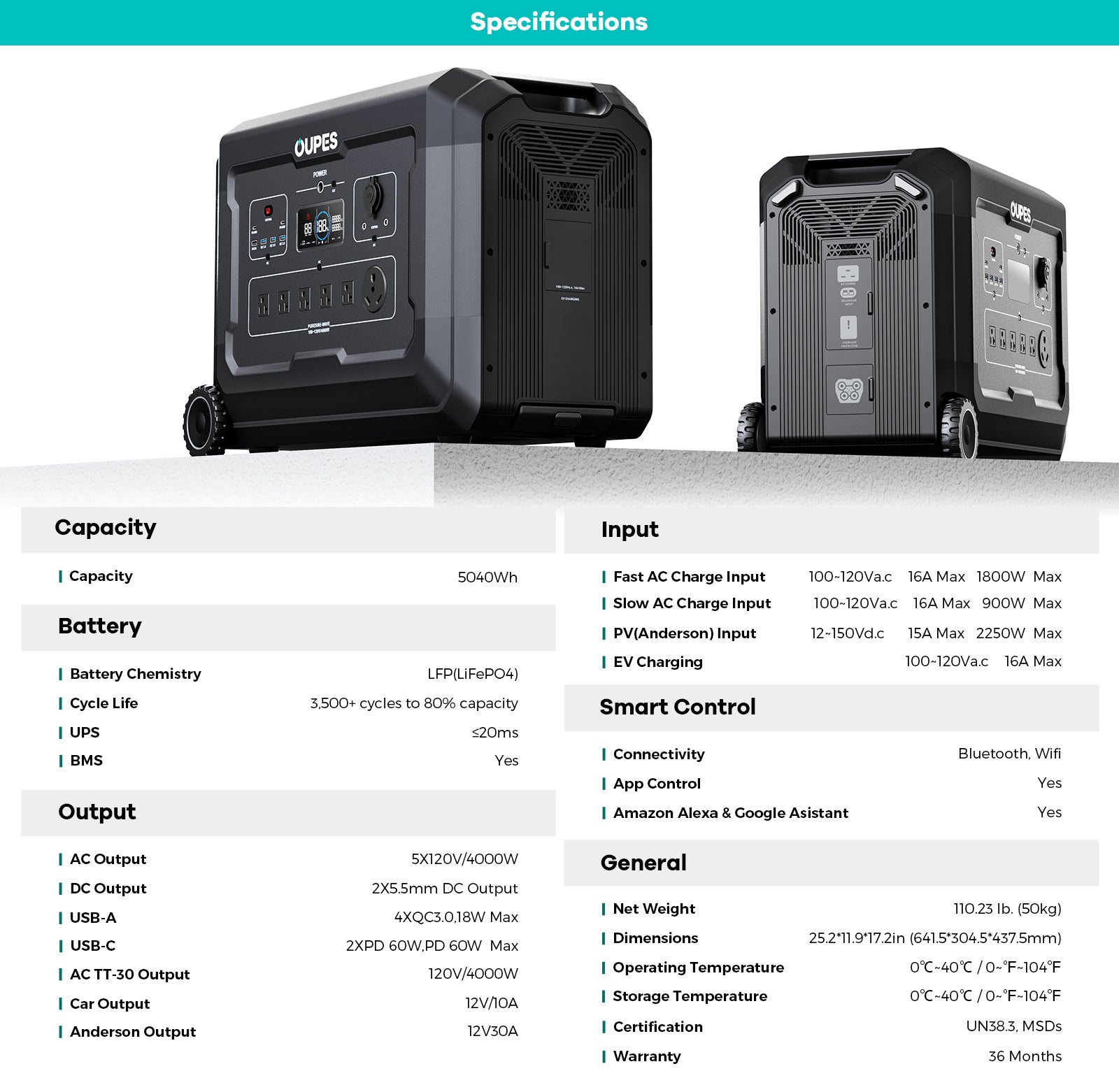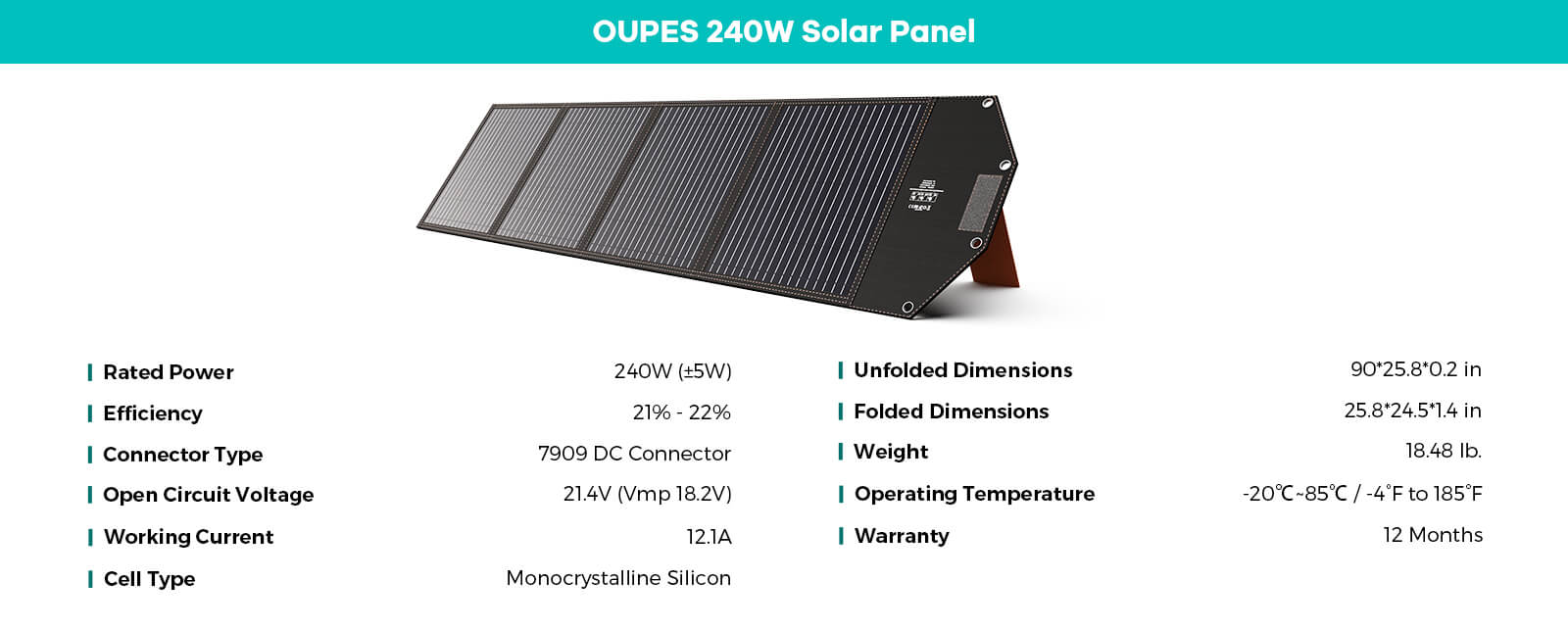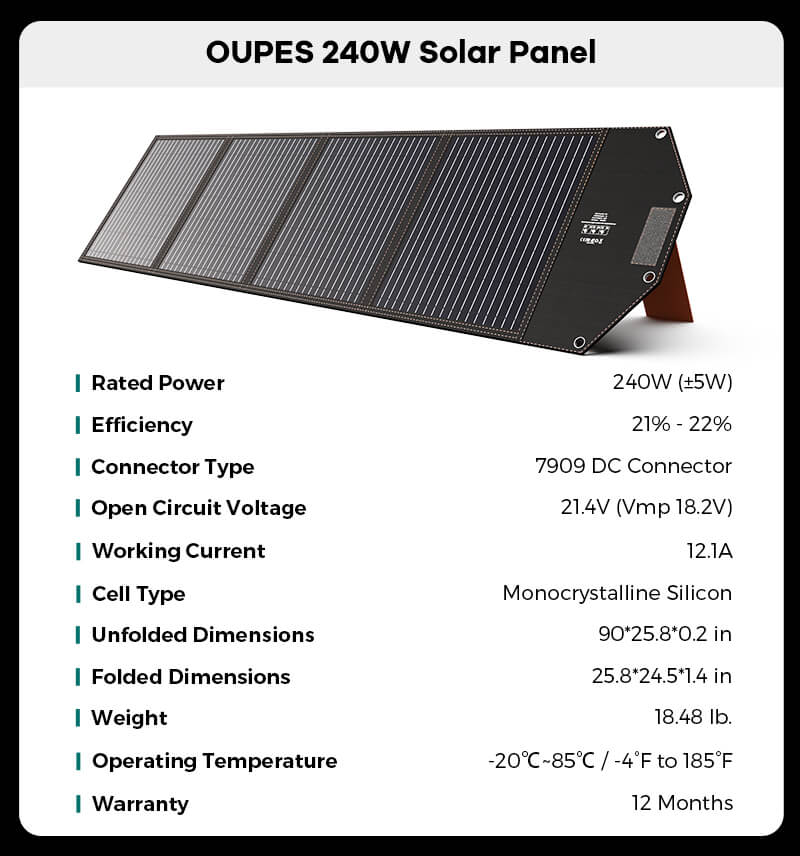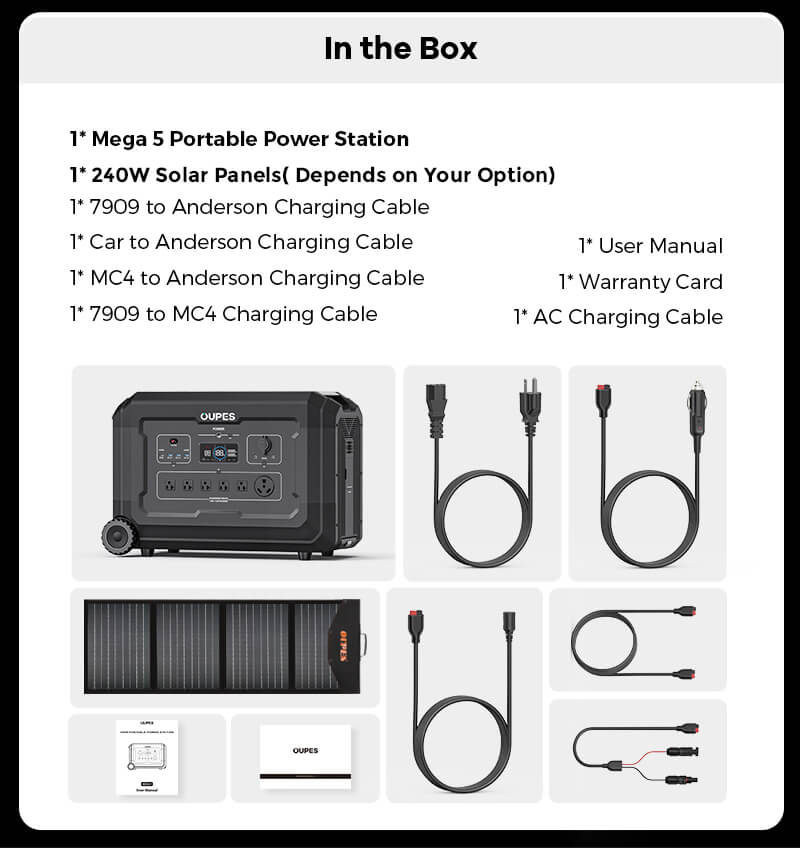 FAQs
How to keep this product when it is not used for a long time?
1. Maintain the battery at a charge level between 60% and 80% of its rated capacity. It is recommended to check and recharge the battery every 3 months to keep it within this range.
2. Store the battery in a dry and cool environment with a temperature range of 0 ℃ to 40 ℃ (32 ℉ to 104 ℉).
3. Ensure the storage area has a humidity level between 0% and 60%.
4. Avoid exposing the battery to corrosive substances, as they can damage the battery's integrity and performance.
5. Keep the battery away from fire hazards and heat sources to prevent potential damage or overheating.
By adhering to these guidelines, you can help preserve the battery's condition and extend its overall lifespan during extended periods of inactivity.
Can I use third party solar panel?
Most of the solar panels on the market are compatible, but it need to check whether the specifications and plug are matched, you can feel free to contact us via email before connecting them. support@oupes.com
Actually, we suggest customers to connect OUPES solar panel with OUPES solar generator.
There is already a solution provided in the generator and also the third party solar panel.
Different companies' solutions may conflict, causing charging not to be done as efficiently as desired although they are universal.
What types of battery does OUPES use?
OUPES uses LiFePO4 battery, LiFePO4 battery is eco-friendly and more stable, the safest battery on the market with no heavy metal elements that are harmful to people.
Are all OUPES Portable Power Stations come with pure-sine wave inverter?
Yes, all Oupes portable power stations use Pure-sine wave inverters.
How to know if OUPES Portable Power Station can charge my devices and how long does it support?
Firstly, please evaluate the devices that need to be charged. As long as the working voltage and power are within the working power of the power station, then it can be powered by the power station. If you are not sure of this, please feel free to contact us: support@oupes.com
Can the Mega5 outdoor power supply be used with a 200W AC adapter?
The Mega5 outdoor power supply is designed for direct charging from the mains power, cannot be used with a 200W AC adapter.
Can I use a third party expanded battery?
No, the Mega 5 can't be expanded with third party battery. Please choose B5 expanded battery with it.