How does solar generators work in winter?
Solar energy has now become a sustainable energy source developed by mankind for a long time. As the world becomes more severe, people realize the value of sustainable energy and use more solar energy. As a result, solar generators slowly entered people's lives. A pressing question arises: Can solar generators operate effectively in winter conditions?
This article takes an in-depth look at the functionality of solar generators during the winter. We'll look at the efficiency of solar generators during the cold, cloudy months and give you practical tips for getting the most out of them.
 Can solar generators work in winter?
Learn about winter solar energy
The distance between the Earth and the Sun increases in winter, but it does not have much impact on solar energy. Even if the sunlight is weak, there are more clouds, and the sunshine time is shorter in winter, it will not affect the work of the solar generator. They rely on the constant presence of sunlight, which can penetrate white clouds.
Solar panels and winter conditions
Solar panels with photovoltaic (PV) cells can still capture solar energy during the winter. Regardless of the environment, solar panels work with the same efficiency. The main influencing factor is the area exposed to sunlight.
How to use solar energy in winter
Store electricity in batteries
Solar generators collect less energy in the winter than in the summer but are still vital during blackouts year-round. A solar generator acts like a big battery, storing energy when needed. A robust battery storage system ensures reliable energy reserves during the winter.
Invest in a reliable solar generator
Investing in a good solar generator can help a home become more independent during the winter. Choosing a generator that performs well in different weather conditions can ensure a stable power supply.
Choosing a high-quality solar generator is critical. Only high-quality generators can ensure families have a stable power supply and protect their daily lives under harsh conditions.
Reliable solar generator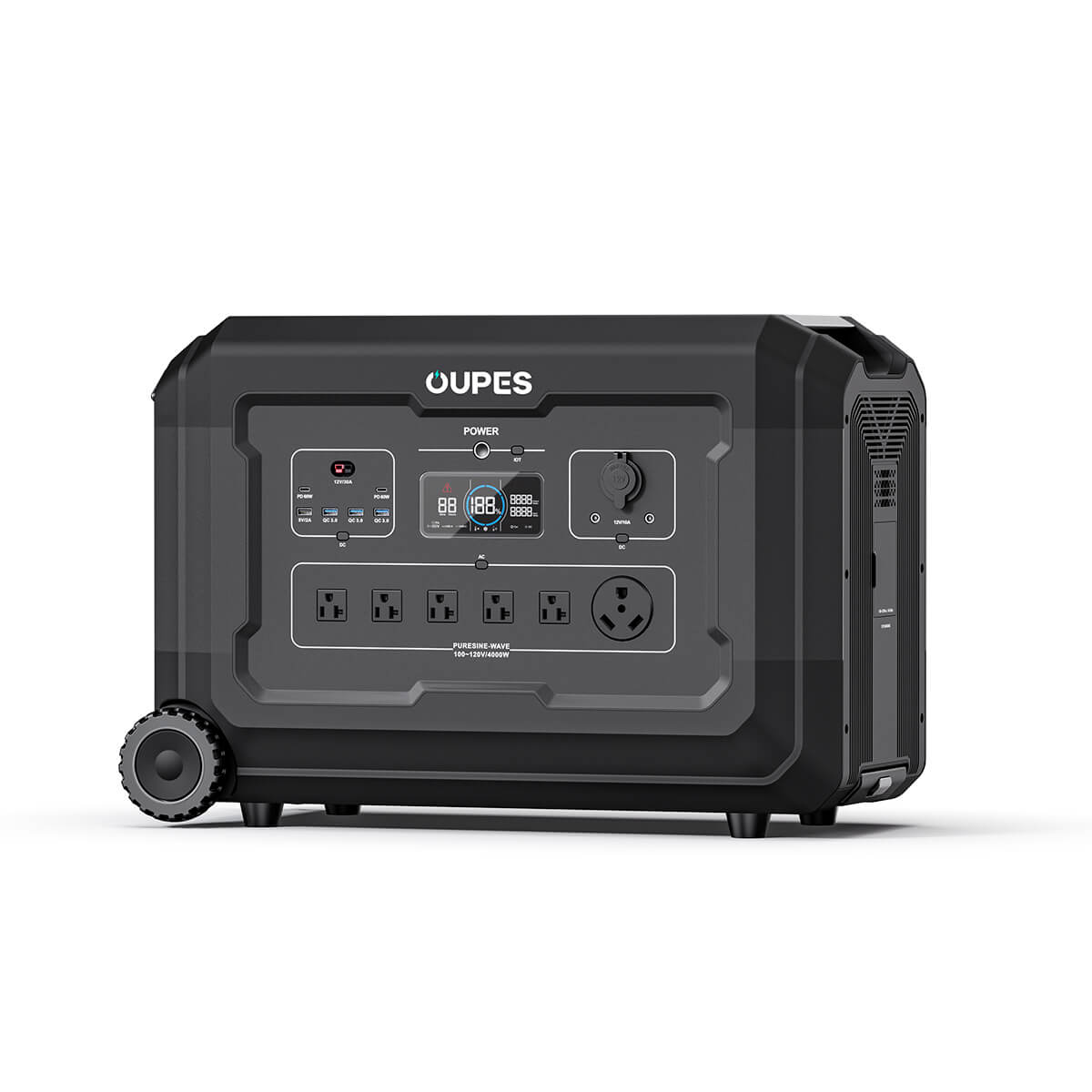 The OUPES Mega 5 is a powerful and efficient portable power station. It has an impressive 5040Wh capacity and a 4000W AC pure sine wave inverter that can reach up to 7000W. The power source is durable with LiFePO4 batteries that can withstand over 3,500 life cycles and up to 80% lifespan. It's expandable to 10.08kWh with the B5, ensuring you never run out of power. Its capacity and 16 output options enable it to run multiple devices simultaneously. OUPES Mega 5 has multiple charging methods such as AC, Solar, Auto, AC+Solar, Generator and EV Charger. Its outstanding feature is the fastest charging speed, which can be fully charged in just 1.5 hours, with a maximum input power of 4050W. The OUPES application allows you to control and monitor this backup power supply. It's perfect for home or outdoor activities.
The OUPES 2400 + 480W Solar Panel Solar Generator Kit is an excellent choice for sustainable energy. It has a capacity of 2232Wh, uses a 2400W AC pure sine wave inverter, and has a 5000W surge capability. The kit uses LiFePO4 batteries with a lifespan of over 3,500 times, up to 80%, ensuring long-term reliability. The device has 14 outputs for different devices. It can be charged in five ways: AC, solar, automatic, AC+solar, and dual AC. The kit includes an HD LCD and LED soft lighting with an SOS signal for intelligent monitoring. The solar system can power 95% of electrical appliances with a maximum input power of 1000W. The solar panels in the kit absorb a lot of energy and are suitable for the environment.
Portable Solar Panel—OUPES 240W Portable Solar Panel
The use of solar energy to generate electricity in winter must be inseparable from solar panels. The OUPES 240W portable solar panel is powerful enough to handle cloudy days and snowy winters.
In Summary
Don't buy into the idea that solar generators work worse in the winter. Instead, learn about how solar energy works and community solar programs. Protect yourself and your family even in bad weather. In addition, using solar generators can save families more than half of their expenses. OUPES's solar generators have absolute quality assurance