Overview
Specification
Reviews
FAQs
OUPES 1800 + 480w Solar Panel | Solar Generator Kit
We are sorry to inform you that the 240W solar panels will be shipped in early January 2024 due to a stock shortage
1488Wh Capacity | 1800W AC Pure Sine Wave Inverter (4000W Surge)
LiFePO4 Battery with 3,500+ Life Cycles to 80%
10 Outputs For Multiple Devices
5 Ways to Recharge (AC/Solar/Car/AC+Solar/Dual AC)
Smart HD LCD display
LED Soft Lighting & SOS Signal
500W Max. Input charging speed
Power for 90% of appliances
Sale price
$1,342.00
Regular price
$1,797.00
-25%
Unit price
per
5%
of sales will be donated to
the OUPES help project to help those in need.
View full details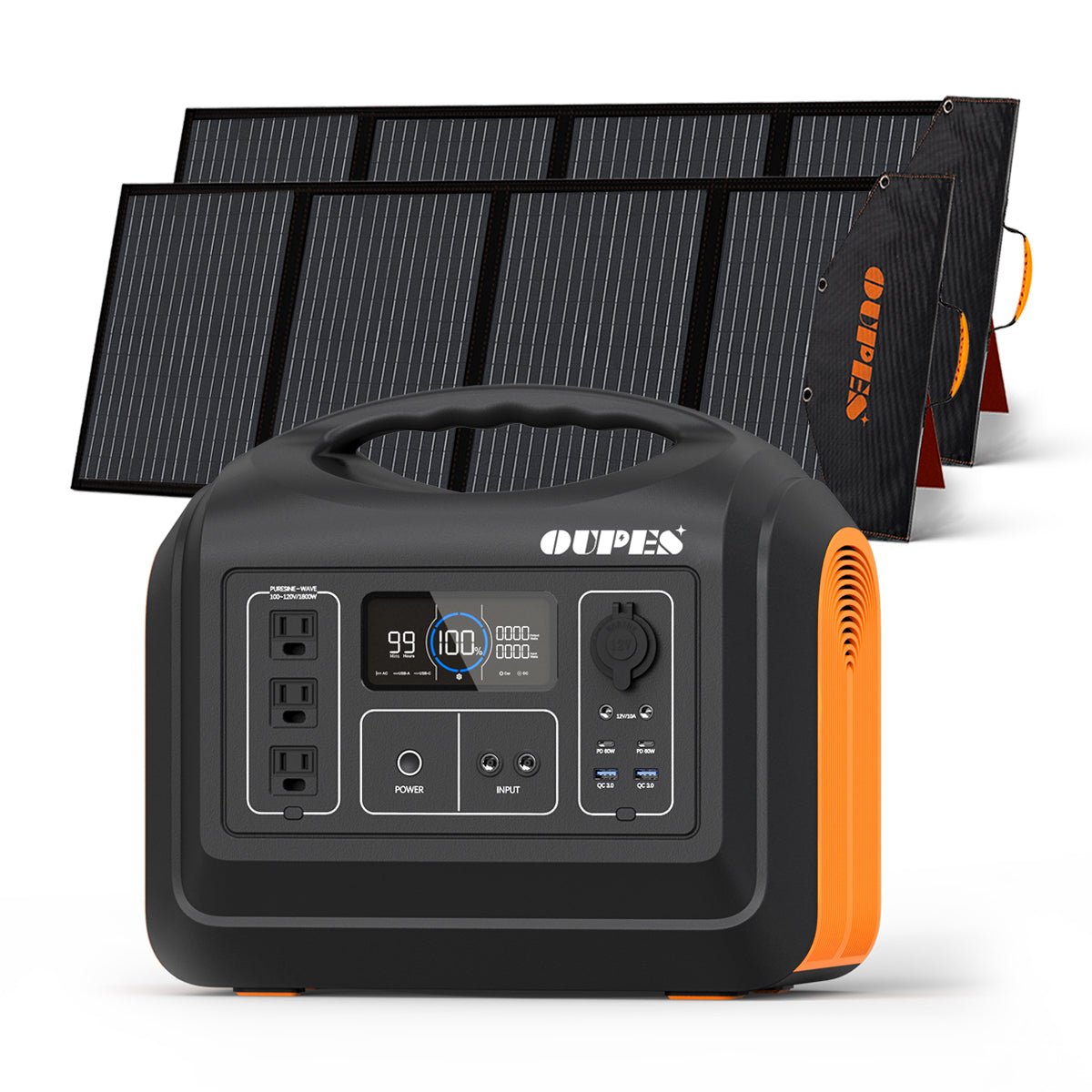 Lifetime customer support
1800W output | 1488Wh capacity
Meet All Your Power Needs
With 1800W output power and 1488Wh capacity, OUPES 1800 is ready to offer you long last power for every single use of outdoor adventures and home use. When a power outage occurs, OUPES offers you a different choice.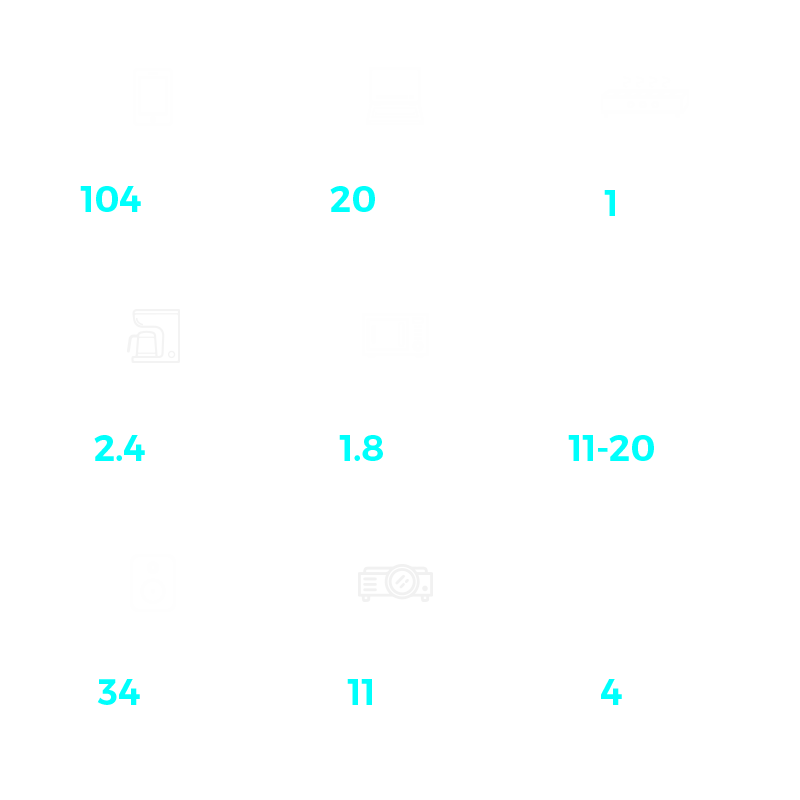 Perfect Size for Home & Outdoors
The 1800W output and 1488Wh capacity allow you to use some high-power appliances without worry. Its weight is also perfect for carrying outdoors. Take OUPES 1800 and have a perfect camping party!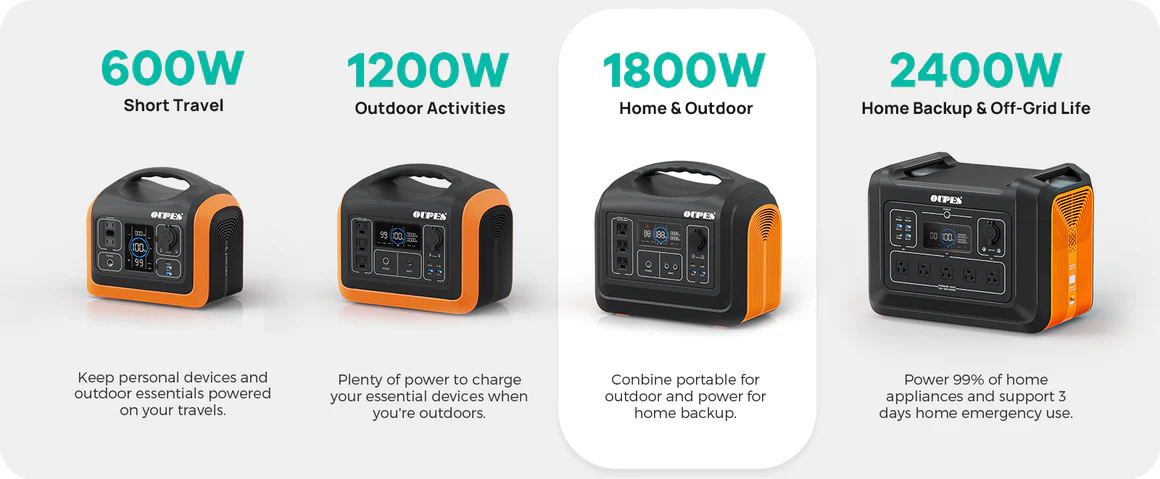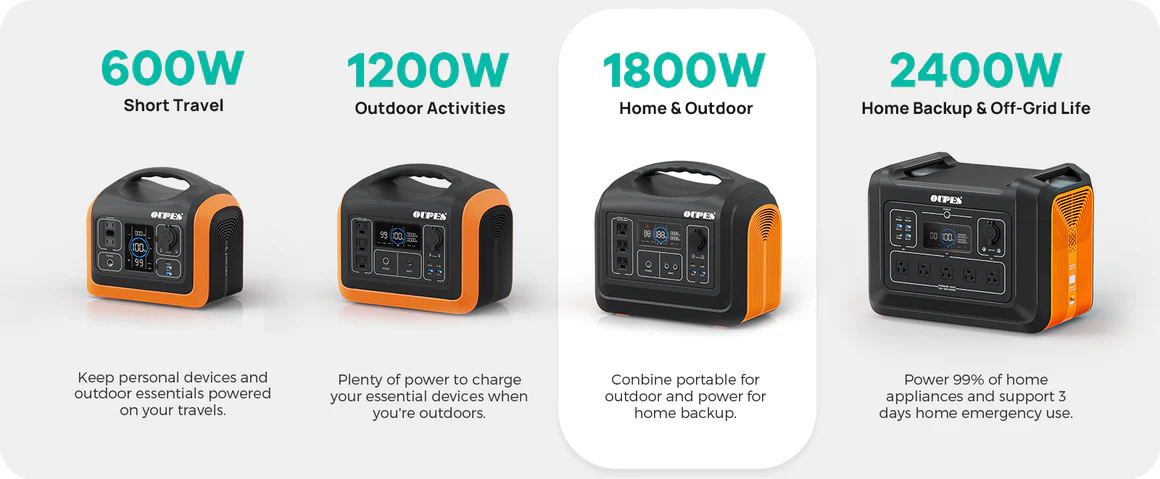 3,500+ Life Cycles to 80%
Safety is Always the First Thing
A new generation of LiFePO4 battery offers 3,500+ life cycles and with reliable use for decades (one cycle per day). With the industry-leading BMS, the OUPES 1800W can operate efficiently and safely in their daily use.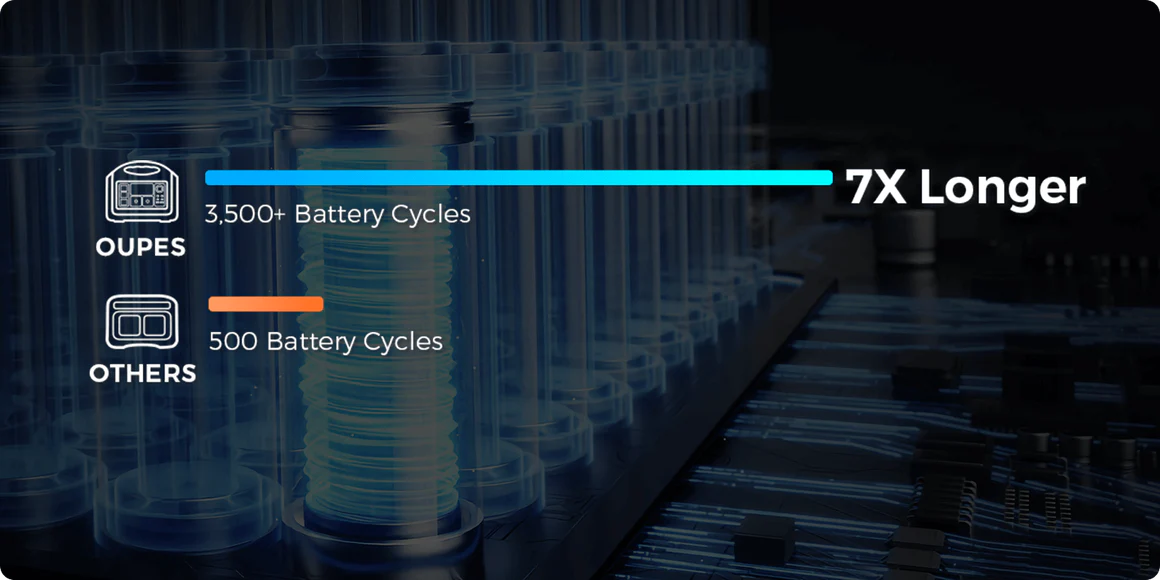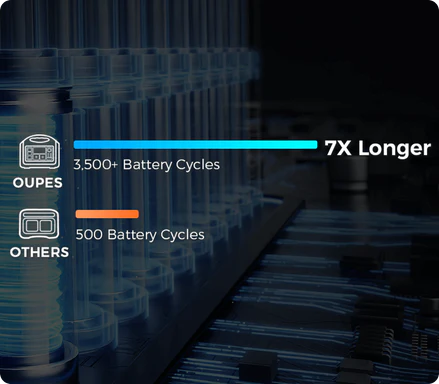 Industry Leading BMS System
Protect Your Devices
The BMS battery management system has over-voltage protection, over-current protection, and over-heat protection. It adjusts the charging voltage and speed to suit your device's needs. This will protect your device and keep it lasting longer.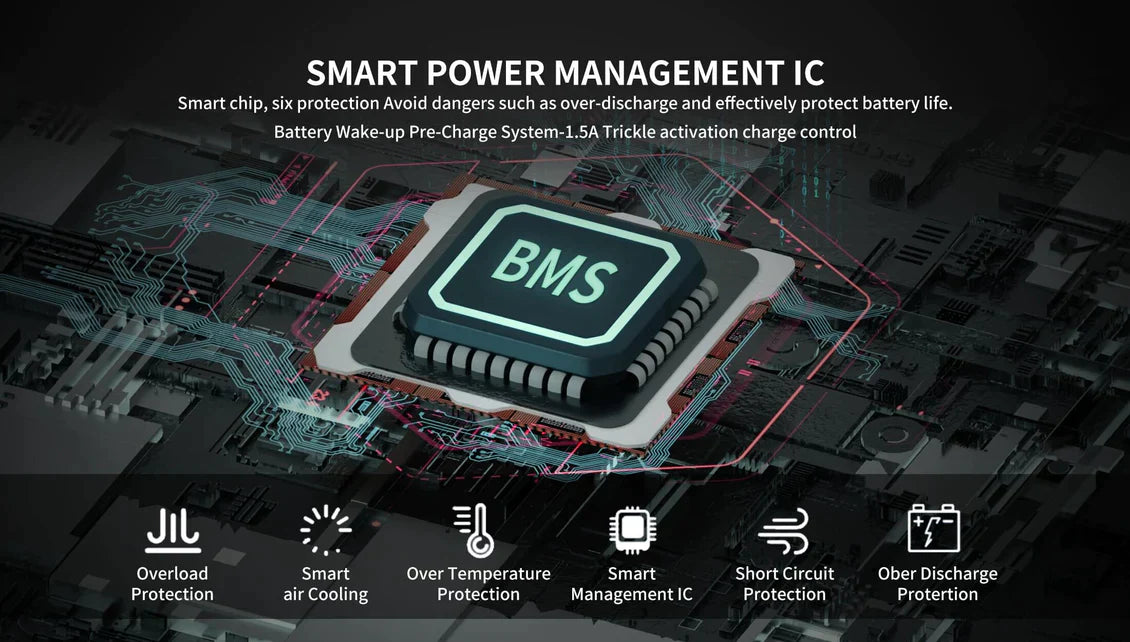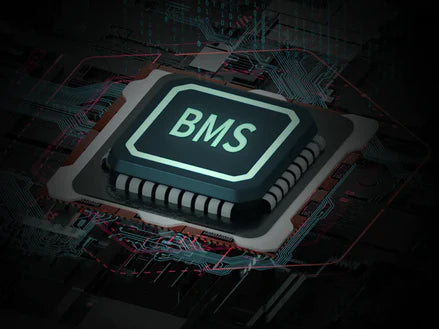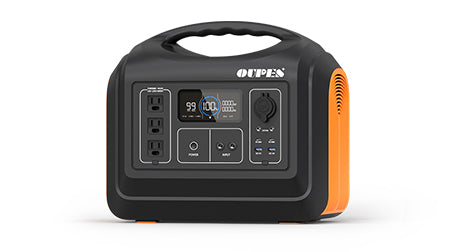 Battery
Battery Chemistry
LFP(LiFePO4)
Cycle Life
3,500+ cycles to 80% capacity
Output
AC Output
3 outlets,1800W(Surge 4000W)
DC5521 Output
2 ports,12V,10A,120W Max
USB-A Output
2 ports,QC 3.0. 18W Max
USB-C Output
2 ports,5/9/2/15/20V,5A
Car Power Output
12V.10A.120W Max
Input
AC Input
2 ports,400WMax,12-30V
Solar Input
2 ports,400WMax,12-30V
General
Dimensions
15.1 x 9.5 x 13.4 in
Operating Temperature
0°C~40°C/0℉~104℉
Storage Temperature
0°C~40°C/0~℉~104℉
Certification
UN38.3 MSDs

Connector Type
7909 DC Connector
Open Circuit Voltage
21.4V (Vmp18.2V)
Cell Type
Monocrystalline Silicon
Unfolded Dimensions
90*25.8*0.2 in
Folded Dimensions
25.824.5*7.4 in
Operating Temperature
-10°C~70°C/ 14℉ to 158℉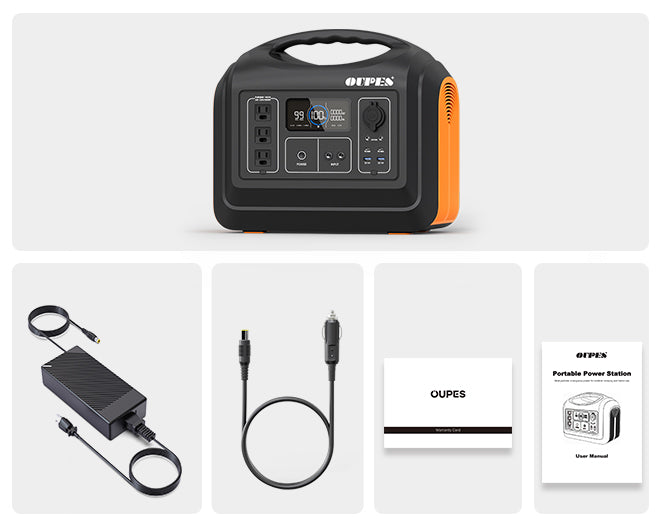 1* 1800W Portable Power Station
1* Car Charging Cable
1* Warranty Card
1* 100W AC Adapter
1* User Manual
Solar Panel(Depends on your option)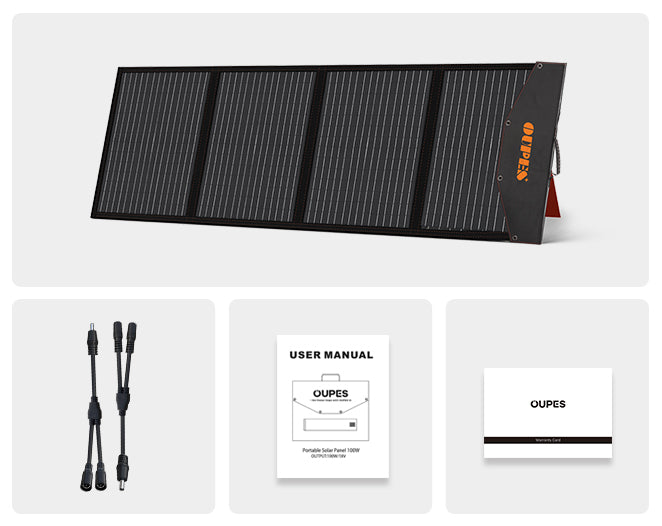 240W Solar Panel(Depands on Your Option)
1 * User Manual
1 * Warranty Card
Charging Cable(Connect to the solar panel)
Y 7909 DC Cable(For 480W panel)
FAQs
How to keep this product when it is not used for a long time?
1. Maintain the battery at a charge level between 60% and 80% of its rated capacity. It is recommended to check and recharge the battery every 3 months to keep it within this range.
2. Store the battery in a dry and cool environment with a temperature range of 0 ℃ to 40 ℃ (32 ℉ to 104 ℉).
3. Ensure the storage area has a humidity level between 0% and 60%.
4. Avoid exposing the battery to corrosive substances, as they can damage the battery's integrity and performance.5. Keep the battery away from fire hazards and heat sources to prevent potential damage or overheating.By adhering to these guidelines, you can help preserve the battery's condition and extend its overall lifespan during extended periods of inactivity.
Can I use third party solar panel?
OUPES power stations can be charged with a solar panel of other brands as long as the plug size and input voltage is matched.
For example, solar panels of other brands for the OUPES power station should meet the specification below:
1. The voltage must be between 12V - 30V.
2. The plug connection size: Outer diameter 7.9mm, inner diameter 5.5mm, inner needle diameter 0.9mm (empty).
*Please note: We don't recommend you to use other brand products to recharge your OUPES power station as we can't guarantee the quality of other brands' products and the safety of using other brands' product. And we can't provide after-sale service for other brands' product. It is highly recommended that you purchase the matching OUPES solar panel(s) for your OUPES Power Station.
What types of battery does OUPES use?
Each OUPES power station is built with the upgraded LiFePO4 battery, which is designed to retain up to 80% of its original capacity at 3500+ complete charge cycles when operating under normal conditions. It has 6 times of longer lifespan than ordinary lithium batteries. LiFePO4 battery is much safer, more stable and more ecofriendly with no heavy metal elements that are harmful to people.
Are all OUPES Portable Power Stations come with pure-sine wave inverter?
Yes, all OUPES portable power stations use Pure-sine wave inverters. Pure sine wave inverters are capable of producing cleaner, smoother, quieter, and more reliable electricity to operate appliances and electronics without interference.
How to know if OUPES Portable Power Station can charge my devices and how long does it support?
Firstly, please evaluate the devices that need to be charged. As long as the working voltage and power are within the working power of the power station, then it can be powered by the power station. If you are not sure of this, please feel free to contact us: support@oupes.com
What is the warranty period for OUPES?
You can enjoy 3-years warranty for all power station. Within the warranty period, if you have any questions, please contact: support@oupes.com.